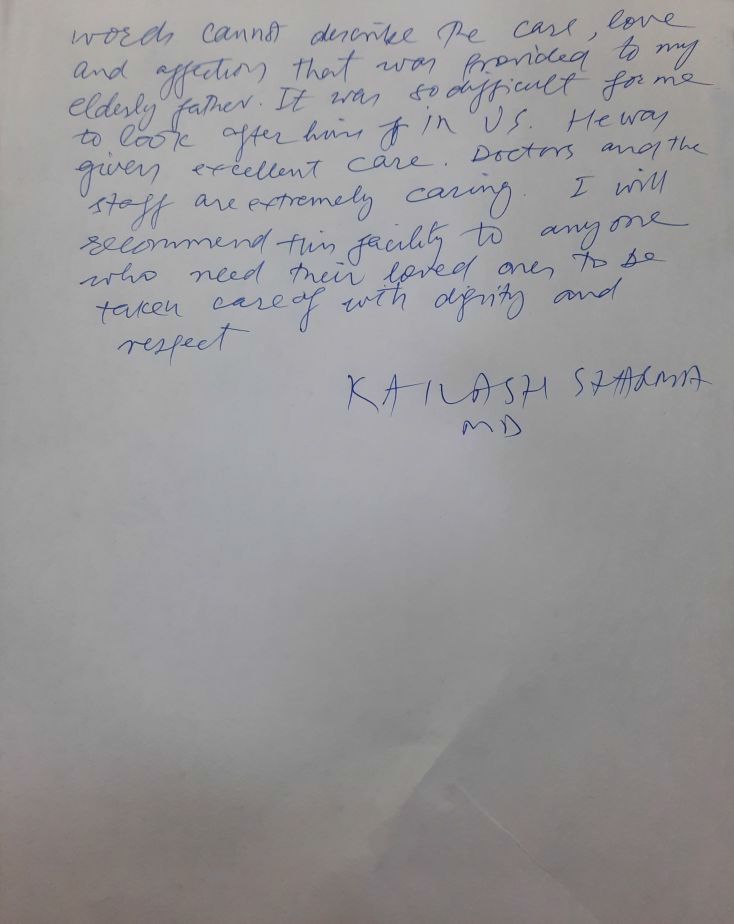 Marjorie
Dear Dr. Rekha,
Thank you very much for ensuring that I was looked after well at your Vardaan Hospital & Elder Care facility. After I was discharged from PSRI Hospital, I got a good opportunity to have a stop-gap arrangement at your place to prepare myself with confidence to ultimately come here to the Ashiana Care Home here in Bhiwadi. The physiotherapy sessions taken by Dr. Lakshya (the Head of the Physiotherapy Dept. at PSRI) were indeed helpful in building my confidence. Your gift of the Walker is really appreciated by me. Everytime I use it here, I'm reminded of you.
I'm glad that my short stay at your place gave me an opportunity to come to know of the good work that you're doing in the field of elder care. It's really a unique facility to be available in Delhi where senior citizens needing care are being looked after so well, some of them for years altogether. While short-term stay like mine can be quite expensive, longer-term stay is relatively less expensive. Often people are willing to spend money but get very little in return. On the other hand, they can be assured that they can get more than their money's worth at your place in terms of being looked after well. I can only pray that God will bless you and help you continue and even expand the good work that you're doing in the field of elder care.
Thanks & best wishes,
Resham talwar
Fantastic specialized care for the elderly. Our grandfather was admitted here for a long duration and he was well taken care of, the staff was very patient, caring, and understanding, and the hospitality and service was indeed world class. Appreciate everyone at Vardaan for always doing such a splendid job and treating every patient's medical needs and life with utmost care and responsibility. Truly setting up new standards in the world of healthcare with their admirable work and passionate dedication to their clients.
Ashok Bhola
Ms Asha was brought to Vardaan for a short stay to recuperate from a fractured leg. She was looked after extremely well. All post-operative visits were professionally arranged by the staff of Vardaan. Apart from the excellent medical care she also got emotional support which made her to convert her stay into a long-term care. The care at Vardaan was par excellent. Apart from her medical care including dental and eye care the staff ensured her food was to her liking. She had a huge cyst in her brain which caused a brain stroke and the staff at Vardaan promptly shifted her to PSRI Hospital and took care of all the formalities on our behalf. Vardaan Senior Citizen Centre is run by Dr Rekha Khandelwal who takes excellent care of medical and emotional needs of elderly. Our best wishes to her and the staff.
Shyama Warner
Vardaan has been a blessing for our family - our mother receives the most personalised care and attention at Vardaan. The attendants and staff are cheerful, respectful, caring and trustworthy.
Vardaan is an excellent senior citizen facility, and Dr Rekha Khandelwal exceeds our expectations every day, with the care and affection with which she looks after our mother, and is a pillar of support for us. During the pandemic especially, when we were unable to go and meet our mother, Dr. Rekha has not only kept us updated on all details but has truly been like family to her.
We would like to express our heartfelt gratitude to Dr Rekha and all at Vardaan.
Sudershan & Nirmal - Senior Citizen admitted for POST COVID care
We are well placed & settled at Banglore . Nirmal is doing better and able to manage her routined activities with in the premises of the flat. We hope you and Dr sahib are having good health . All the best for your noble profession as a doctor and rendering your support and love to all of the SR living citizen under your umbrella
I wish all the success in your endeavour for serving such kind of needy people in and around Delhi.
Nirmal and myself miss each one of you of Vardaan team .
Mira Bahukhandi
Mamta
Kapil Advani's
Atul's brother
P K Rohatgi's
Brinda Roy
My aunt was admitted at Vardaan Senior Citizen centre in July 2016.Since then, till her passing away in March2020, she was very well taken care of by Dr. Rekha Khandelwal and her team of Vardaan Senior Citizen Centre. Dr. Rekha Khandel wal looked after her most kindly ,from seeing medical ailments and food to ensuring celebration of festivals and birthdays. Dr. Khandelwal kept in touch with the family. She sent photographs and videos of Aunty and kept us informed of her health .Dr. Khandelwal and the staff took the effort to have aunty meet the other residents at Vardaan..In the winter Aunty was taken to the space that got sunshine so she could enjoy the outdoors and soak in the winter sun. After Auntys passing away she very thoughtfully held a prayer meeting.
Dolly Roy
My dear all Doctors, Nurses and all employes of Vardaan Health Centre. Mrs Dolly Roy would like to thanks each one of you for the loving and tender care that you did for Ms Sunanda aunty. I realy have no words to express my gratitude, I shall do a puja at Maa Kali Temple to ask her to bless all of you. It is the first time in my life that I have seen such love and care for a patient, all that I can say in May God Bless All Of You.
I deeply feel that there is a God in each one of you. I will never forget you and when and if I can come to New Delhi I will be there to personally thank you I strongly fell that there is in all of you and God will bless you in ample measure all of you looked after her asif she was your own mother I have no words to say thank you all that I will always pray for all of you.
You will always remain in my thoughts a prayers. Each one of you has a god in you. With my sincerest gratitude, I know all of you will miss her, and what gives me strength are all of you.
Please stay well, If you need anything pls remember that I am a part of Vardaan.
Review of Post-operative care at Vardaan Senior Citizen centre by NRI
I am an NRI. It was a very tense moment ,when I realised that my 75 year old mother ,residing in Delhi was diagnosed with a gynae problem and needed surgery. I had just delivered a baby girl and was not at all in a position to travel to India to be with my mother . I was very disturbed. The thought that I was not there with my parents at the time of need kept haunting me.They were always my support and strength and I was unable to look after them in time of need. While searching through the net ,I saw Vardaan Senior Citizen Centre and also saw that it was run by a practicing gynaecologist. I called up Dr. Rekha Khandelwal. The moment I spoke with her, I knew she was the right person .She assured me that she will perform the surgery and also take care of my parents for 6 weeks.
Needless to say that the surgery went of uneventfully. My parents were taken care in Vardaan Senior Citizen Centre for the next 6 weeks. Vardaan Senior Citizen Centre is a clean ,excellent facility where all comforts are given in a home like atmosphere. I think this is a great facility combined with medical facilities .Vardaan senior Citizen Centre is an excellent facility Availability of medical facility in a senior Citizen centre is an excellent idea and very reassuring.
Rajesh Bajaj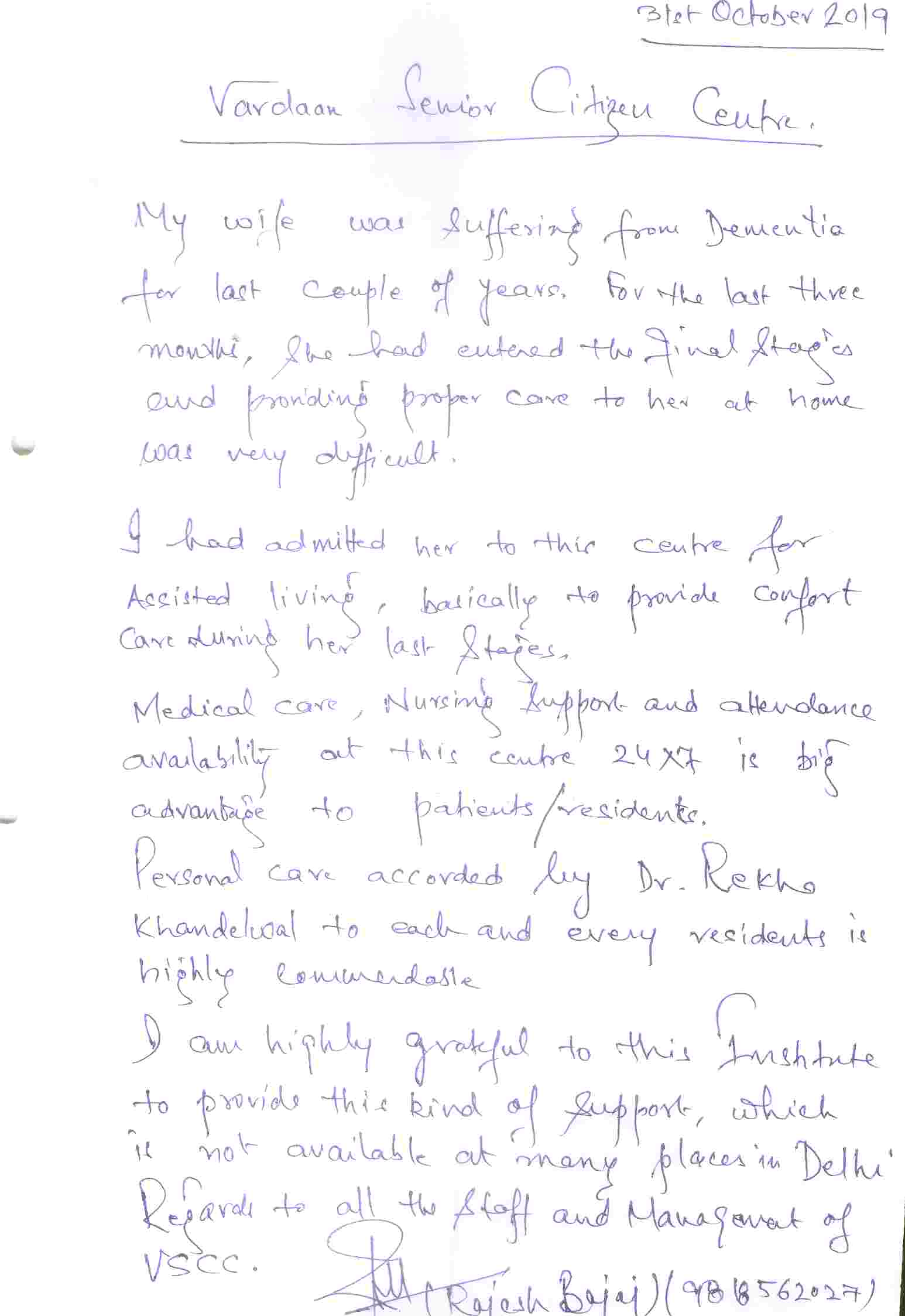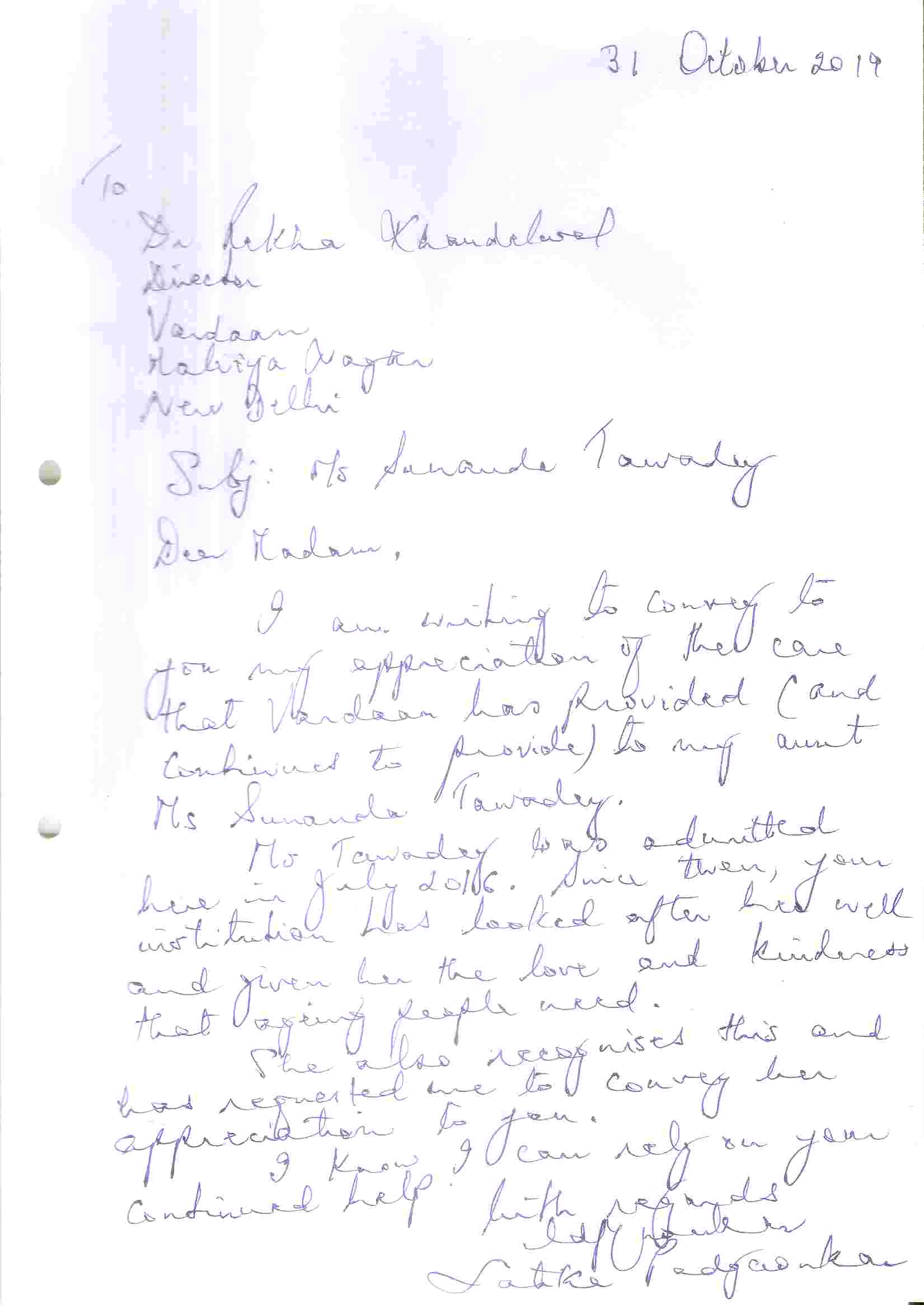 Appreciation letter from relatives of Ms Sunanda, a dementia patient living with us since 2016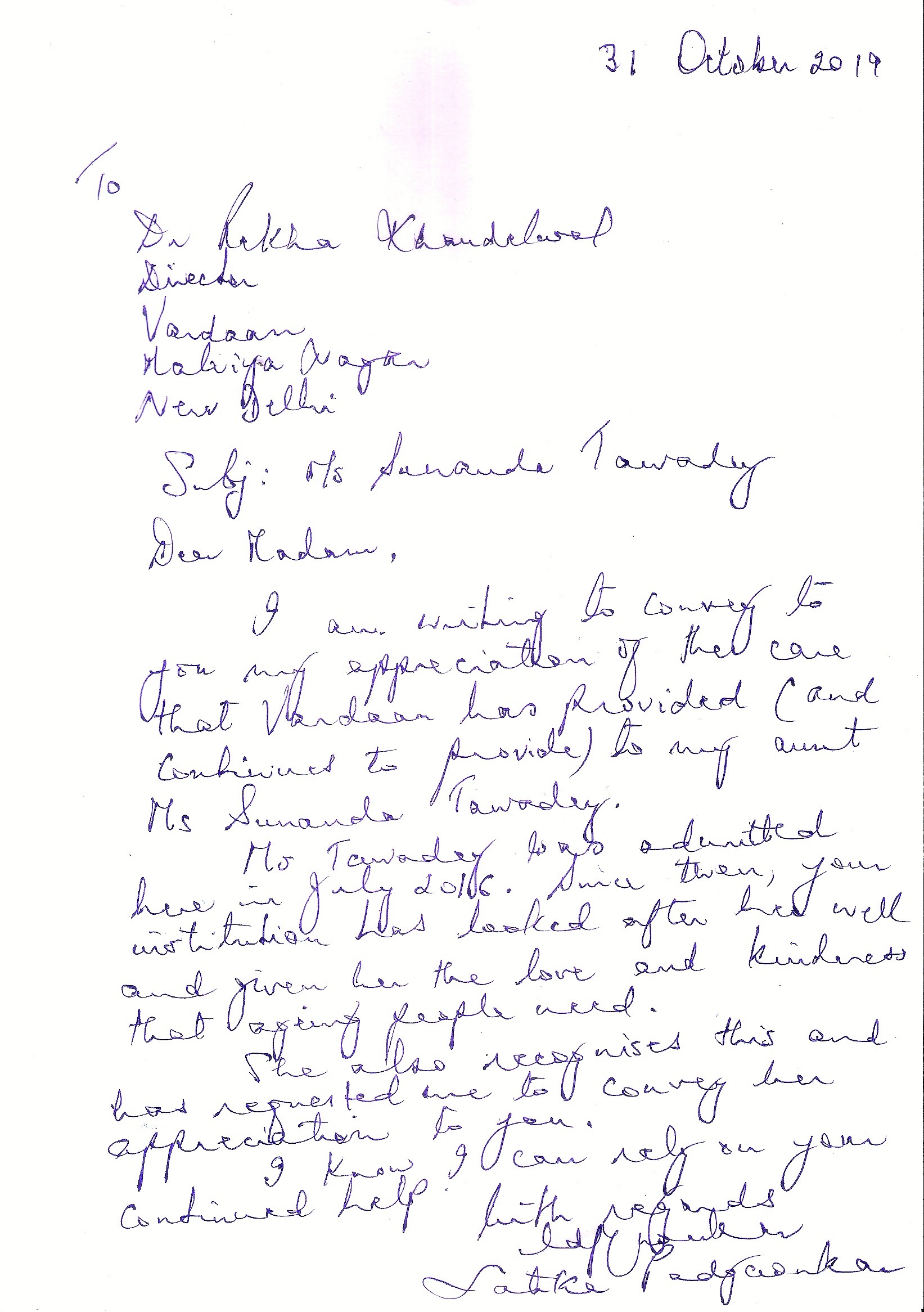 Savita Datta - 7th October, 2018
I happened to be a Fb friend of Doctor Rekha Khandelwal, and she happens to upload her videos regularly.These videos where she had been celebrating birthdays and other events of the elderly in her hospital impressed me. Her heart warming gesture , the smile on her face brings a childlike smile on the innocent faces of the senior citizens of her hospital. Last month ( Sept-2018) my husband had to visit the hospital because my father-in-law who was a dementia patient had become very weak , This was the hospital we trusted rather than the hi-profile hospitals of our area in Saket. He remained in the hospital for three days before he passed away peacefully and with appropriate care and treatment as was suitable for an nonagenarian. For those who read this , I would advice you to go for the services of this hospital if you have senior citizens at home. Incidentally, my daughter was born twenty years before in the same hospital . I had to be rushed to the hospital due to some problem. However, again the right treatment and care and the right decision of the doctor for a normal helped me to have a healthy , bonnie baby.
Rajiv Anand
I wanted to express our family's deep gratitude for the excellent care that my mother received during her long stay at Vardaan Hospital and senior citizen centre She was admitted for a period of three years after her memory started fading and progressive infirmity I wanted to express our family's deep gratitude for the excellent care that my mother received during her long stay at Vardaan Hospital and senior citizen centre. She was admitted for a period of three years after her memory started fading and progressive infirmity made it impossible for my sister to care for her at home. The staff at Vardaan gave her the loving care that she needed with the benefit of medical care required along the way.
It is very difficult to have an elderly parent be told that that they have to leave their own home and move into a nursing facility. These difficult decisions bring guilt and anguish to any family. However, there is a great need for elder care and long term health care in India. I would recommend Vardaan Hospital and senior citizen centre to anyone who needs short or long term personalized care. I hope that you will be able to continue to provide such care and facilities for the sick and elderly in the future
Anirban Ghosh
I highly recommend Vardaan Elderly Care center for the excellent care of its residing elders as well as for its first class accommodation and services. Both my sister and I are settled in the West. After my mother passed away in Delhi last I highly recommend Vardaan Elderly Care center for the excellent care of its residing elders as well as for its first class accommodation and services. Both my sister and I are settled in the West. After my mother passed away in Delhi last year, we decided to put our Father (who suffers from Dementia) in Vardaan's care. Over the following months, my father settled nicely into the center, made friends with the care-workers/other residents and bonded superbly with Dr. Rekha (who is surely an elder-whisperer!). All my father's needs including timely intake of medication, walks in the park, cleaning of his room and ironing of his clothes were taken care of with absolute professionalism and personal care by the staff of Vardaan. Again, if you are looking for a place in Delhi to take care of your elderly relatives with the peace of mind that everything they need and want is being taken care of, then Vardaan is surely the place for you and your elders.
Shantanu Tandon Nephew of Mr. Tandon
"A couple of years back when my uncle Dr D K Tandon was diagnosed with Dementia, we were looking for a decent place where he can be taken care of. We chanced upon Vardaan Senior Citizen centre. I spoke to Dr Rekha Khandelwal and found her to be quite empathetic & considerate in her approach. My uncle is staying in Vardaan for last couple of years and we are grateful to Dr Rekha and her staff for taking care of my uncle."
Shilpa Grover
We take this opportunity to thanks the entire staff and special thanks to Dr. Khandelwal for taking care of my uncle Wg. Cdr OP Grover who was residing with you. We lost uncle on 15.11.2016 and will always miss visiting him smiling and happy here . A family atmosphere every time I visited. Dr. Khandelwal thanks once again and wishing to many more such care centers to take care of our uncles. When we are compelled to be out for work. I will be happy to support in any way I can assist. Please feel free to contact me.
Rina Nayar
Saba Karim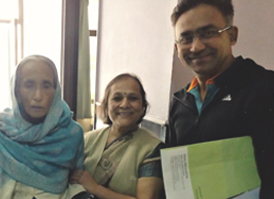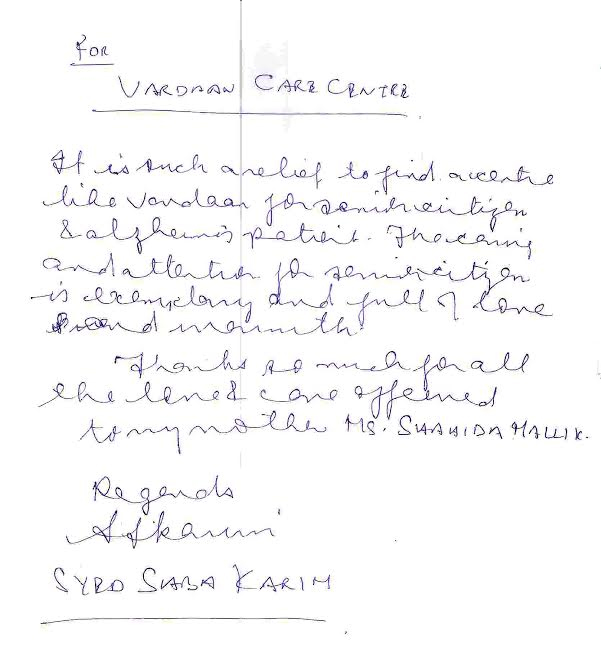 Saugata Roy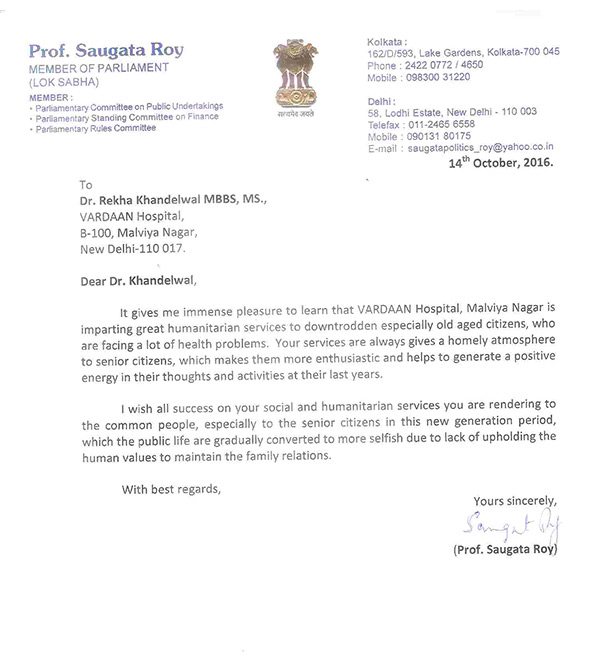 Jayeeta Maitra
Ravi Garg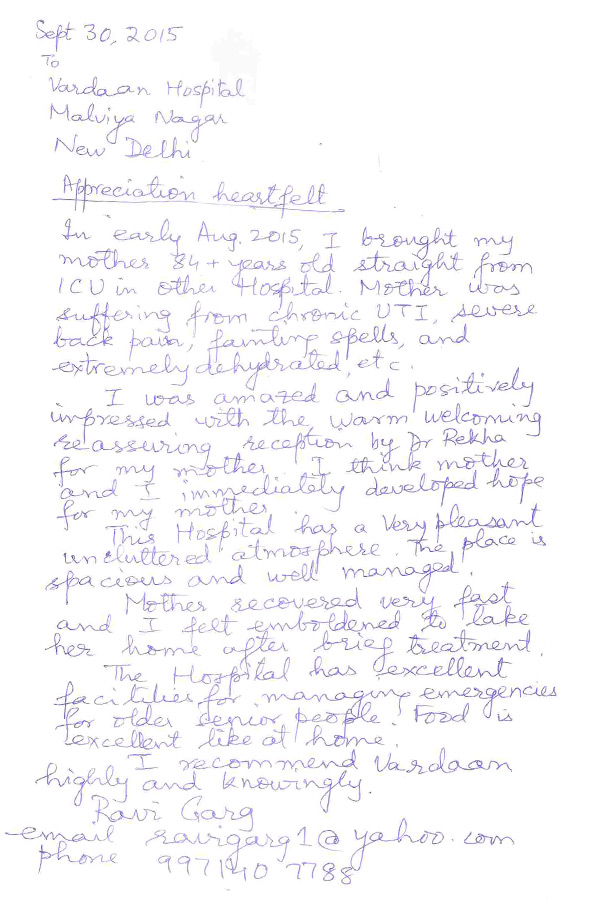 Kerti Chaudhary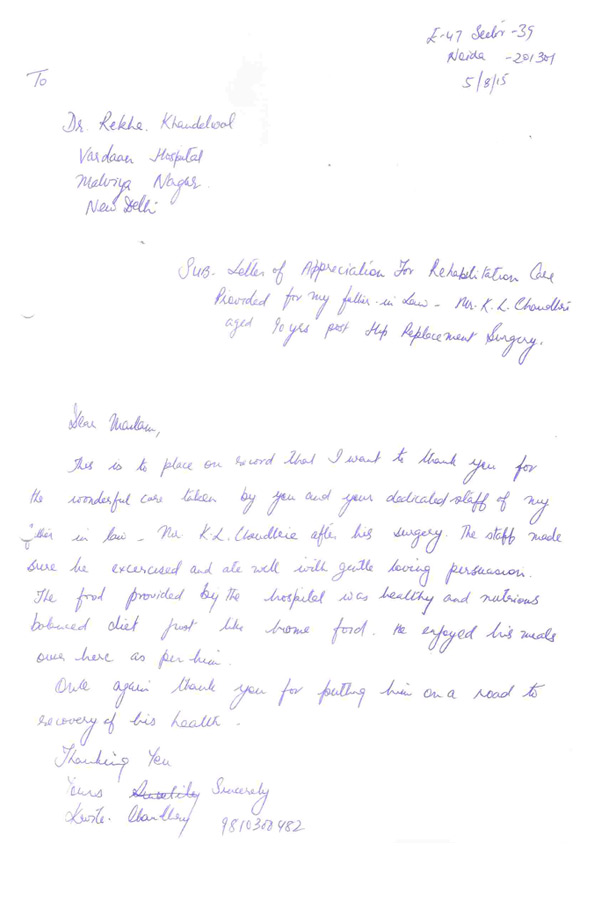 A. K. Mohca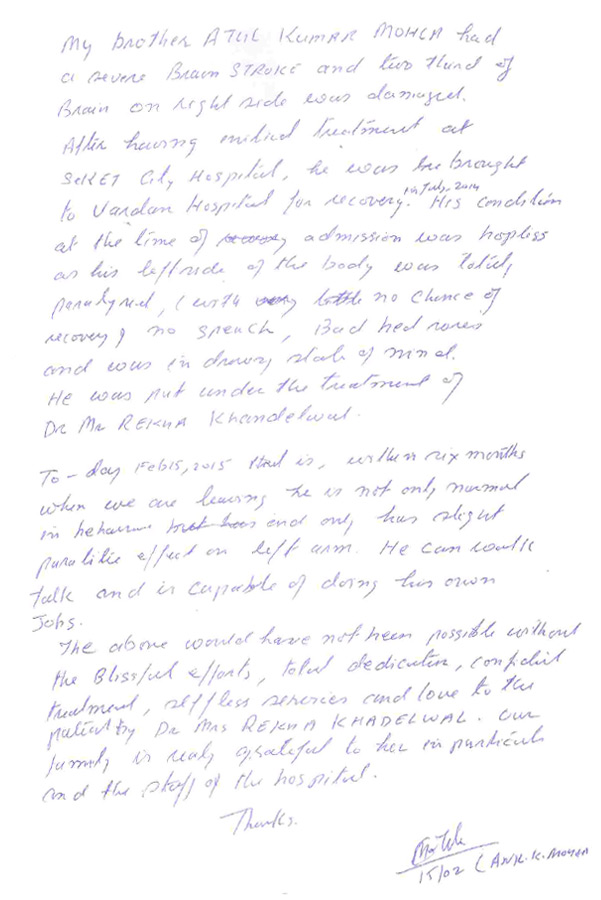 R. Naga Lakshmi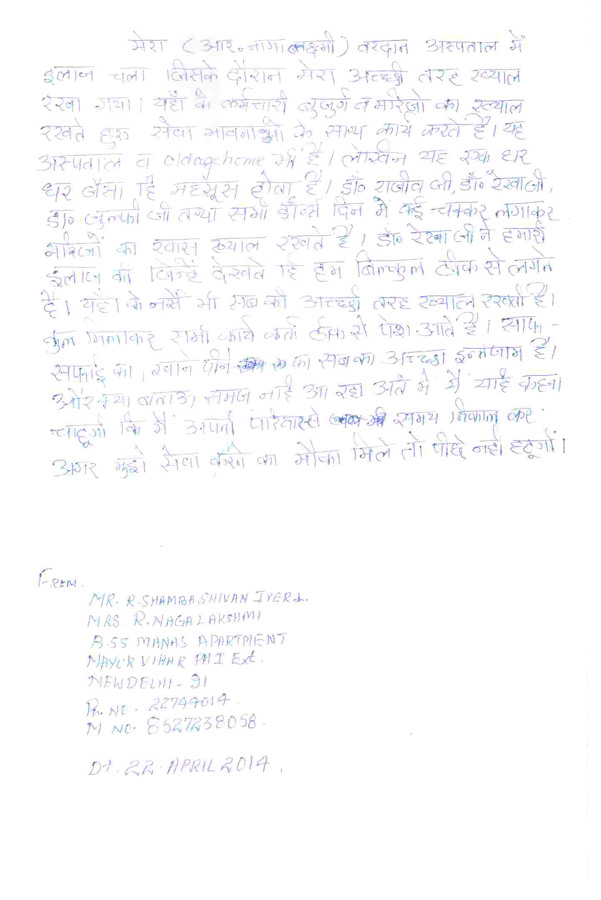 Aditi Anand
Ajay Khosla
This is a short note to thank you and your esteemed institution for providing a high level of service for my aunt, Dr. Sarla Khosla. I wanted to record the appreciation which we as a family feel and respect. During her stay of near two years with yourselves she had an extremely pleasant experience both from the viewpoint of medical care and personal attention. Food cooked in your premises and served with hygiene and pleasantness indeed made her stay almost home like. During her last month she did go through a rough patch. Your personal attention and logistic support with both Mediclinic and during her final days were a blessing. We wish you and your institution the very best. We look forward to supporting you and your endeavors and will see you in the near future. My father passes you and others in the team his regards as well.
Akshey
My mother, Manorama Devi, was a patient of Parkinson's disease and paralysis. We were managing her at home but due to complications of the illness and lack of trained caregivers I had to shift her to Vardaan Senior Citizens Home. Vardaan is truly home away from home and the entire staff under the able guidance of both Dr Rekha Khandelwal and Dr Rajiv Khandelwal works tirelessly to make the senior citizens feel at home.
Baipai
Vardaan Senior Citizen Home is providing residential facilities with medical support and entertainment to senior citizens. it is a highly noble cause and this organization's work has to be applauded, appreciated and encouraged by the society. I convey my heartfelt blessings and pray to Almighty to give them enough courage, support and resources so that they may boost their activities and provide support to more Senior Citizens. God bless them and give them enough resources, courage and strength.