Shantanu Tandon Nephew of Mr. Tandon
"A couple of years back when my uncle Dr D K Tandon was diagnosed with Dementia, we were looking for a decent place where he can be taken care of. We chanced upon Vardaan Senior Citizen centre. I spoke to Dr Rekha Khandelwal and found her to be quite empathetic & considerate in her approach. My uncle is staying in Vardaan for last couple of years and we are grateful to Dr Rekha and her staff for taking care of my uncle."
Shilpa Grover
We take this opportunity to thanks the entire staff and special thanks to Dr. Khandelwal for taking care of my uncle Wg. Cdr OP Grover who was residing with you. We lost uncle on 15.11.2016 and will always miss visiting him smiling and happy here . A family atmosphere every time I visited. Dr. Khandelwal thanks once again and wishing to many more such care centers to take care of our uncles. When we are compelled to be out for work. I will be happy to support in any way I can assist. Please feel free to contact me.
Saba Karim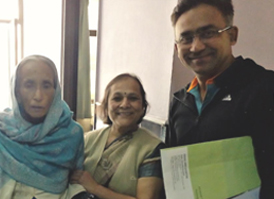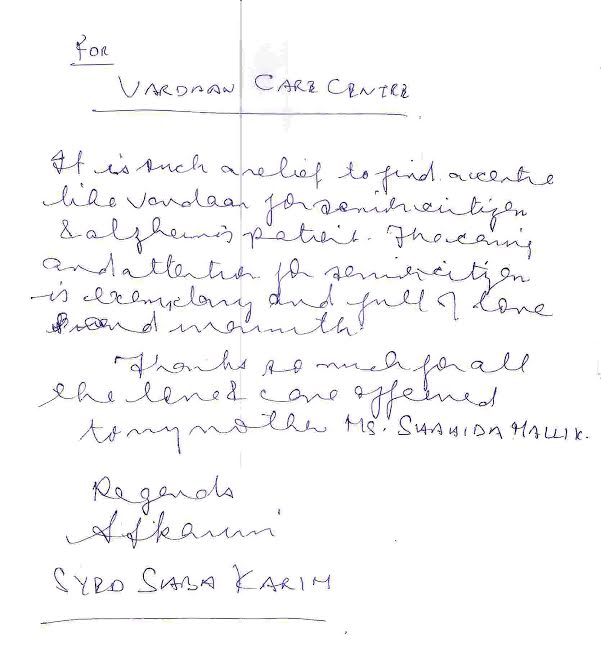 Ajay Khosla
This is a short note to thank you and your esteemed institution for providing a high level of service for my aunt, Dr. Sarla Khosla. I wanted to record the appreciation which we as a family feel and respect. During her stay of near two years with yourselves she had an extremely pleasant experience both from the viewpoint of medical care and personal attention. Food cooked in your premises and served with hygiene and pleasantness indeed made her stay almost home like. During her last month she did go through a rough patch. Your personal attention and logistic support with both Mediclinic and during her final days were a blessing. We wish you and your institution the very best. We look forward to supporting you and your endeavors and will see you in the near future. My father passes you and others in the team his regards as well.
Akshey
My mother, Manorama Devi, was a patient of Parkinson's disease and paralysis. We were managing her at home but due to complications of the illness and lack of trained caregivers I had to shift her to Vardaan Senior Citizens Home. Vardaan is truly home away from home and the entire staff under the able guidance of both Dr Rekha Khandelwal and Dr Rajiv Khandelwal works tirelessly to make the senior citizens feel at home.
Baipai
Vardaan Senior Citizen Home is providing residential facilities with medical support and entertainment to senior citizens. it is a highly noble cause and this organization's work has to be applauded, appreciated and encouraged by the society. I convey my heartfelt blessings and pray to Almighty to give them enough courage, support and resources so that they may boost their activities and provide support to more Senior Citizens. God bless them and give them enough resources, courage and strength.